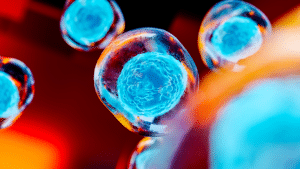 In 2013, Noriko Shinjyo, Ph.D., a Research Associate at Chiba University in Japan, coauthored a study with Italian scientist Vincenzo Di Marzo on cannabichromene (CBC), a phytocannabinoid that exerts profound effects on the nervous system.1
Published in Neurochemistry International, their paper probed how CBC influences the fate of adult neural stem progenitor cells, which are described as "an essential component of brain function in health as well as in pathology." As stem cells mature, they change and differentiate into new neurons and other cells. CBC was shown to have a positive effect on neural stem progenitor cells during their maturation phase, according to in vitro research.
Recently a different group of scientists has followed up on this decade-old discovery by delineating seven mechanisms through which CBC is able to protect and regenerate the nervous system. They reported their findings in Life, a Swiss scientific journal, noting that CBC, a "neurogenesis enhancer," enables stem cells "to sustain their viability and differentiation."2
What Are Neural Stem Cells?
Scientists have identified specific areas of the brain — the hippocampus and the lateral ventricles — where neural stem cells are created. These cells undergo a maturation process, known as differentiation, which is an important stage for young cells located in the spinal cord, brainstem, and brain regions programmed for muscle control. Young stem cells evolve into new neurons, but they can also form cells that comprise the protective sheath surrounding nerves.
Some neural stem cells differentiate into astroglial cells, also known as astrocytes. These abundant star-shaped cells populate the grey and white matter of the brain, where they regulate cerebral blood flow and the transmission of electrical impulses. They also play a crucial role in maintaining the blood-brain barrier and repairing the brain and spinal cord following an infection or a traumatic injury.
But a subpopulation of these mature cells remains dormant. That's fortunate, given that active astrocytes can stunt the brain's natural ability to regenerate after an injury. This means that a regulated maturation of neural stem cells, located in the brain and spinal cord, helps to protect and regenerate the nervous system. And this process is augmented by CBC, a cannabis compound, which regulates the production of new neurons, while also reducing the formation of active mature cells that may impede regeneration after a brain injury. 
Can CBC Regenerate Embryonic Cells?
In 2023, a team of six Italian scientists published new details that explain how CBC protects and regenerates damaged neurons and nervous system components. They used a special type of spinal cord cell derived from an embryonic mouse, combined with neuroblastoma cells, to make their discovery. The team assessed changes in the genetic landscape of the cells after exposing them to CBC and a control media. 
By further refining their analysis, the team elucidated newly discovered mechanisms behind cannabichromene. The plant cannabinoid helps to facilitate proper dopamine neuron and glutamate receptor maturation. And while various cannabinoids regulate the formation of the nerve's protective sheath, their neuronal regeneration depends on other functions of CBC. 
A Balancing Act with Choline
It seems that one newly found mechanism of CBC might work synergistically with tetrahydrocannabinol (THC), while also counteracting the effects of alpha-pinene, a terpene found in various cannabis chemovars and other botanicals.3
Alpha-pinene appears to act directly against CBC at a specific neurotransmitter that sends signals from muscle to neuron. That transmitter is in the choline family, which is protected by pinene but is broken down more rapidly under CBC exposure. Choline is important for cognition, brain development, neural stem cell maturation, muscle movement, and other basic functions.
THC downregulates the choline transmitter, while CBC boosts a gene that codes for a special choline-destroying enzyme; thus, both CBC and THC are implicated in the reduction of choline, and this can protect the nervous system and regenerate neurons. Alpha-pinene, on the other hand, keeps cognition taut by protecting choline. It's a balancing act. The use of CBC, the scientists conclude, "could represent an important addition to the regeneration of the nervous system, but further experiments need to clarify and optimize how CBC could be effectively used for this purpose."
---
Travis Cesarone is a freelance writer and communicator focusing on medical cannabis sciences. © Copyright, Project CBD. May not be reprinted without permission.
---
Footnotes
Shinjyo, N., & Di Marzo, V. (2013). The effect of cannabichromene on adult neural stem/progenitor cells. Neurochemistry international, 63(5), 432–437. https://doi.org/10.1016/j.neuint.2013.08.002
Valeri A, Chiricosta L, D'Angiolini S, Pollastro F, Salamone S, Mazzon E. Cannabichromene Induces Neuronal Differentiation in NSC-34 Cells: Insights from Transcriptomic Analysis. Life (Basel). 2023 Mar 9;13(3):742. doi: 10.3390/life13030742. PMID: 36983897; PMCID: PMC10051538.
Russo, E. B., & Marcu, J. (2017). Cannabis Pharmacology: The Usual Suspects and a Few Promising Leads. Advances in pharmacology (San Diego, Calif.), 80, 67–134. https://doi.org/10.1016/bs.apha.2017.03.004
The post Cannabichromene, a Minor Cannabinoid with Major Upside appeared first on Project CBD.